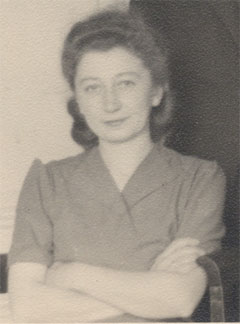 In her book, Miep Gies consistently refers to the eight people hiding in the Secret Annex as 'our friends'. Now and then she gives brief descriptions of each of them. She does that less emphatically than Anne in her diary, but Miep's eyes are those of a mature woman, while Anne's are those of a pubescent girl, and one locked indoors besides.

Miep already knew all the hiders before the war started, except Peter van Pels. Miep had met Fritz Pfeffer at the Franks and he was her dentist. Hermann van Pels was a colleague, and she also knew his wife Auguste from the open house afternoons at the Frank family home. Otto Frank had of course been Miep's employer since 1933, but she had come to know him and his family as good friends outside the work setting as well.

Although Anne did not lose her cheerful and lively youthful nature in the Secret Annex, she nevertheless gradually evolved into a young woman. Miep came to visit twice a day, on account of the groceries of course, but also to offer the eight occupants some welcome distraction. Miep noticed how an unspoken understanding grew between Anne and herself. "Sometimes, without words, I would sense how she felt, or what she wanted, as one woman to another."
Below you can read some excerpts from Miep's book, in which she gives her opinion of the eight people that spent more than two years living in close proximity in the Secret Annex.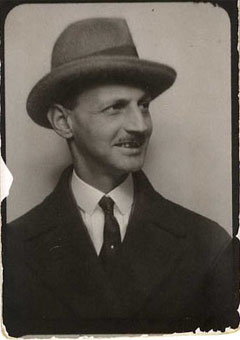 Passport photo Otto Frank, around 1933.Otto Frank. Miep describes the first time she met him, at the occasion of her job interview with him in early 1933: "In a shy but genltemanly way, this tall, slim, smiling man introduced himself, as did I, and began the usual preliminaries of a job interview. His dark eyes held mine, and I felt immediately his kind and gentle nature, stiffened somewhat by shyness and slightly nervous demeanor. (...)" During the time in hiding, Miep describes Otto Frank as follows: "Mr. Frank was the calm one, the children's teacher, the most logical, the one who balanced everyone out. He was the leader, the one in charge. When a decision had to be made, all eyes turned to Mr. Frank."
Edith Frank. Miep got to know Mrs. Frank as a polite, friendly, somewhat reserved and modest lady. She pined for Germany, more than her husband. She had trouble mastering the Dutch language. In the Secret Annex Miep saw Edith as follows: "Mrs Frank, kind and orderly, very quiet but aware of everything that went on around her." Because a doctor's visit to the Secret Annex was out of the question, everyone was afraid of falling sick. "This anxiety wore on all of us, expecially Mrs. Frank. She was particularly careful always for the health of the children, always watching what they ate and wore, whether they were cold, whether there were any signs of illness." Of all the Annex occupants, Edith Frank was most distressed by bad news from outside. Slowly, as the winter approached, her attitude was becoming more and more dismal. (...) No amount of encouraging news could penetrate her bleak outlook. As much as all of us argued against her view, she saw no light at the end of the tunnel."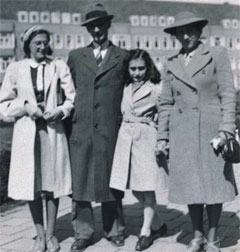 The Frank family in 1941, photographed at Merwedeplein in Amsterdam.Anne Frank. Miep first saw Anne at the office, when she was four years old and had just arrived in the Netherlands with her mother and sister. Miep remembers thinking at the time: "Now, here's the kind of child I'd like to have someday. Quiet, obedient, curious about everything." Remembering the ten-year old Anne, Miep writes: " She clearly looked up on her older sister. Anything Margot did or said was sponged up by Anne's darting eyes and quick mind. In fact, Anne had developed the skill of mimicry. (...) We couldn't help laughing at her little performances, she was so skilled with her voice. Anne laved having an attentive audience, and loved to hear us respond to her skits and clowning."
Margot Frank. Miep first met Margot at a dinner at the Frank family home. "Margot was ten years old, very prety, also with shiny dark hair. (...) Margot seemed to be Mommy's little girl, and Anne was very much Daddy's." Margot would always remain the more contemplative of the two sisters, she enjoyed learning and achieved 'remarkably high grades' in school. She was a beautiful girl, and she wore glasses through which her dark earnest eyes observed the world and "and her attention was always on bookish matters and never on frivolity". In the Secret Annex, Miep sees Margot just as Peter van Pels: "quite withdrawn, always part of the background."
Hermann van Pels. Miep makes his acquaintance when he comes to work for Travies & Co. in 1938. He was an old acquaintance of Mr. Frank and is appointed managing director of Pectacon, a new branch of the company, specializing in meat herbs. Miep also gets to know Hermann and Auguste van Pels outside the work setting, at the Saturday afternoons at the Frank family home. "There was nothing about spices that Mr. Van Daan [Hermann van Pels] didn't know; with one sniff of his nose he could name any spice. Never was he without a cigarette dangling from his mouth. He was a tall, large man, well-dressed, who stooped slightly when he walked. He had a manly, plain-looking face and scarcely any hair left, although he was only in his middle forties. Mr. van Daan always had moment for a joke. Van Daan was quite an agreeable sort, and had no trouble fitting into the routine of Travies and Company and Pectacon." During the time in hiding she gets to know him as "the joke-teller, something of a pessimist, always smoking, and somewhat restless."
Auguste van Pels. Miep only knew Auguste van Pels from the open house Saturday afternoons with coffee and cake at the Frank family home. She gets to know Auguste as "his pretty, coquettish wife". In the Secret Annex she gets to know her as "temperamental, flirty, chatty". For Miep's 35th birthday in February 1944, Auguste van Pels, also on behalf of her husband, presents her with a small package containing an antique ring. Miep was taken aback and thought of the amount of money that Mr. and Mrs. Van Pels could make with that ring on the black market. But "instead of being practical, I looked back into Mrs. Van Daan's [Auguste van Pels] dark eyes and promised, "I'll wear it always – in friendship," and slipped it on my index finger. It fitted perfectly. Mrs. Van Daan put her hand on my shoulder for an instant and squeezed, and then we went our separate ways."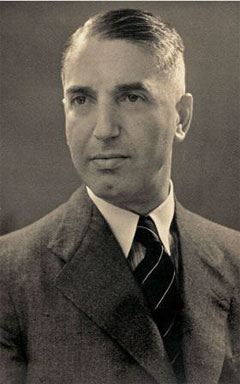 Fritz PfefferPeter van Pels. Miep first met the sixteen-year old son of Hermann and Auguste van Pels in the Secret Annex. They went into hiding one week after the Franks. In the years in hiding, she hardly speaks to him, just as Margot he was "quite withdrawn, always part of the background". "Margot and Peter made no requests, let me know no needs, nothing of themselves". Miep calls Peter a weak pupil, for whom Otto Frank always had extra time and attention.
Fritz Pfeffer. Fritz Pfeffer was another person that Miep met through the Saturday afternoons at the Franks. He was a handsome man, a charmer who resembled the romantic French singer Maurice Chevalier." (...) I like Dr. Dussel [Fritz Pfeffer]. He was a very appealing person. When I learned that he had beentaken in by my dentist on the Amstellaan, and that he was hoping to establish a practice of his own sometime in the future, I decided to see him for my own dental work. As I'd hoped, he turned out to be an excellent dentist." Although Miep had a liking for Pfeffer, in the Secret Annex she noticed that (...)
Quoted from the book Anne Frank Remembered. The Story of the Woman Who Helped to Hide the Frank Family. By Miep Gies with Alison Gold. Simon and Schuster, New York 1987. A new edition of the book is expected for early 2009.