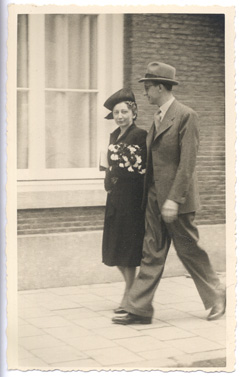 Miep and Jan Gies at their wedding-day, July 16, 1941.Miep Gies, in her book, is a lot more extensive about the night stay than Anne Frank in her diary. Below are some of Miep's memories of that special night of October 19, 1942, which she and her husband Jan spent in the Secret Annex.

'Each of our friends greeted us happily as we made our way upstairs. "The last worker has gone," I informed him. Right away, there were voices, footsteps, the toilet flushing, a cabinet shutting. Already, it was noisy upstairs; the place had come alive.'
After a tasty and nutritious meal, cooked by Mrs. Frank and Margot, the company remained seated around the table, talking.
(...) 'With the blackout frames up and the electric light on, along with the heat from the cooking, the room became toasty-warm, cozy. We sat long over coffee and dessert, talking, our friends devouring the novelty of our presence. They seemed to be insatiable for our company.
As I sat, I became aware of what is meant to be imprisoned in these small rooms. As this feeling registered, I felt a taste of the helpless fear that these people were filled with, day and night. Yes, for all of us it was wartime, but Jan and I had the freedom to come and go as we pleased, to stay in or go out. These people were in a prison, a prison with locks inside the doors.'
While Jan and Miep were already in bed in Anne and Margot's room, the others prepared for the night. Every little noise that they made was audible. Besides, the Westertoren church bell struck each quarter hour.
(...) 'All through the night I heard each ringing of the Wesertoren clock. I never slept; I couldn't close my eyes. I heard the sound of a rainstorm begin, the wind come up. The quietness of the place was overwhelming. The fright of these people woh were locked up here was so thick I could feel it pressing down on me. I was like a thread of terror pulled taut. It was so terrible it never let me close my eyes. For the first time I knew what it was like to be a Jew in hiding.'
Quoted from the book Anne Frank Remembered. The Story of the Woman Who Helped to Hide the Frank Family. By Miep Gies with Alison Gold. Simon and Schuster, New York 1987. A new edition of the book is expected for early 2009.