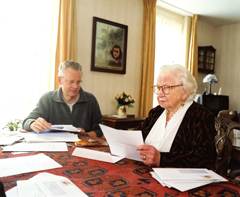 Miep en Paul Gies. Foto: Bettina Flitner.Good fortune is like a red thread running throughout my mother's life', remarked Paul Gies, son of Miep and Jan Gies. That remark seems justified, considering how this small, ailing girl, born in Vienna in 1909 and undernourished during the First World War, is now, in 2008, in reasonably good health, still living independently with some assistance, and hoping to celebrate her hundredth birthday in February 2009.

During the German occupation of the Netherlands, Miep Gies was one of those helping the eight people in hiding in the Secret Annex at Prinsengracht 263 in Amsterdam. Her commitment, concern and decisiveness, and perhaps a good dose of luck, helped keep the lives of eight Jewish people out of sight of the German occupiers, and helped keep life bearable for them, despite all the restrictions.

Following their betrayal, the occupants of the Secret Annex were deported by the Germans on August 4, 1944. With her colleague Bep Voskuijl, Miep Gies was able to save the diaries of Anne Frank from falling into German hands. In the summer of 1945 she was able to hand 'the legacy of your daughter Anne' to her father Otto Frank, the only Annex occupant to return from the concentration camps. She had saved Anne's writings unread in the drawer of her desk at the office where she worked. Since its first publication in 1947, the dairy has been published in many languages, with countless reprints. The book is still published in large numbers, it has been made into a theater drama and a cinema film, so that millions of people across the world have obtained a vivid picture of the life of a Jewish hider during the Second World War, seen through the eyes of a pubescent girl with considerable writing talent. Although Miep Gies has always been very modest about it, it is not sure whether all of this could have come to pass without the decisive actions of her and Bep Voskuijl.

Below you will find a biographical account of the life of Miep Gies.