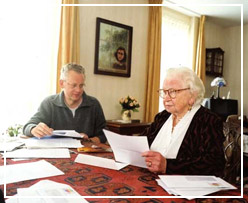 Empty is the place, but beautiful are the memories of Miep Gies. The number of cards, flowers and your sympathy have supported us and made us realize that she meant a lot, not only to us but also to others. We would like to thank you most sincerely for your interest.
On behalf of all: Paul and Lucie Gies
Hoorn, The Netherlands, March 2010
You can download our expression of gratefulness here as a pdf file.